Sewer pipes with different materials and diameters are exposed to several external and internal environmental influences during their use and operation., which can damage them. Such factors may include the breakdowns that occur during different track searches, sulfide formation, trees roots ingrowth.
If the channel is difficult to access, or multiple recurrent blockages, then in each case we usually recommend a camera channel test, without breakdown, the pipes can be inspected from the inside, so we get an accurate picture of it, what mistake we are facing.
There are several models of channel cameras on the market. The biggest difference is appliances lies in it, what is the smallest and what is the largest pipe diameter, what we work with. Depending on the application, we can differentiate between zoom, push-in, or self-propelled cameras.
In our channel imaging work, we always choose such a device, which allows us to determine perfectly, where and what causes the clogging.
Our latest Rico duct scanner provides an opportunity for internal condition assessment, 50-600 mm in diameter, of any material, for uninterrupted inspection of a channel section up to 120 m in length.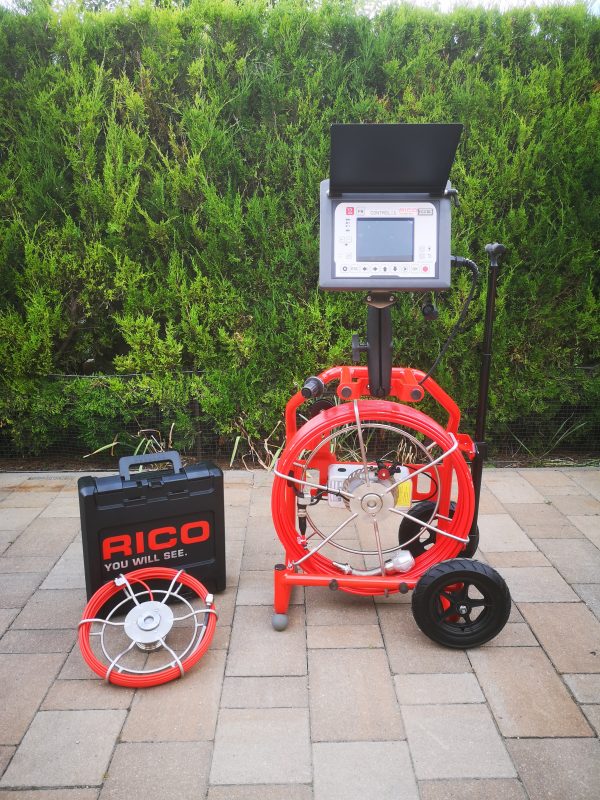 Tests with a channel camera:
general condition survey
exact definition of fault location
excavation of cleaning shafts
exploration and inspection of connections
new channel commissioning
registration of channel slope conditions
exfiltration, finding infiltration
examination of root formation
determination of concrete corrosion
During the camera channel scan, a color image is taken of the channel section, from which the location and diameter of the channel can also be determined.
Cleaning is always required before channel shooting!
You need help? Visit me and my team even on holidays, since we use the most modern machine park to detect the fault and eliminate even the most stubborn blockages! Contact us at connection can be found under menu item!
Important! We only make and keep a recording of the camera duct inspection in that case, if you need it! Please indicate your request in advance! We are unable to make the recording afterwards, just in case, if you order the service again!
More interesting articles on anti-clogging